Two years dedicated to free revolutionary work for the people of Portland through social justice rooted designs and murals.
2020-2021

---
Over $30,000 were raised by Expression Against Oppression to go towards the efforts and art of BIPOC creatives in Portland and beyond.
⬤ Believe in Climate Change
Protest poster made of recycled vinyl and paint
2020
---
⬤ Black Lives Matter Collage
Wheat-pasted posters in downtown Portland applied on top of the Apple store.
2019
---
⬤ A New World is Coming
Poster design made to raise funds for Black Lives Matter organizations and non-profits around the world
2020
---
⬤ Power to the Polls
Commissioned wheat-pasted poster design to educate and inform BIPOC voters in downtown Portland.
2020
---
⬤ Black Trans Lives Matter
Protest signs and posters made to share an important message and fight for Black Trans Lives in Portland.
2021
---
⬤ Fuck Ice Earrings
Earrings made to raise money for organizations fighting against ICE. Over $4,000 were raised and donated.
2021
---
⬤ No Justice, No Peace
First Mural made by Salomée out of leftover paint and donated supplies. Mural is in downtown Portland to honor George Floyd and other lives lost due to police brutality. This is where Salomée started Expression Against Oppression as she started to raise money while painting in the steet, she wanted to give the same opportunity to other BIPOC artists in Portland. Over $8,000 was raised to pay artists to paint other murals around town.
2019
---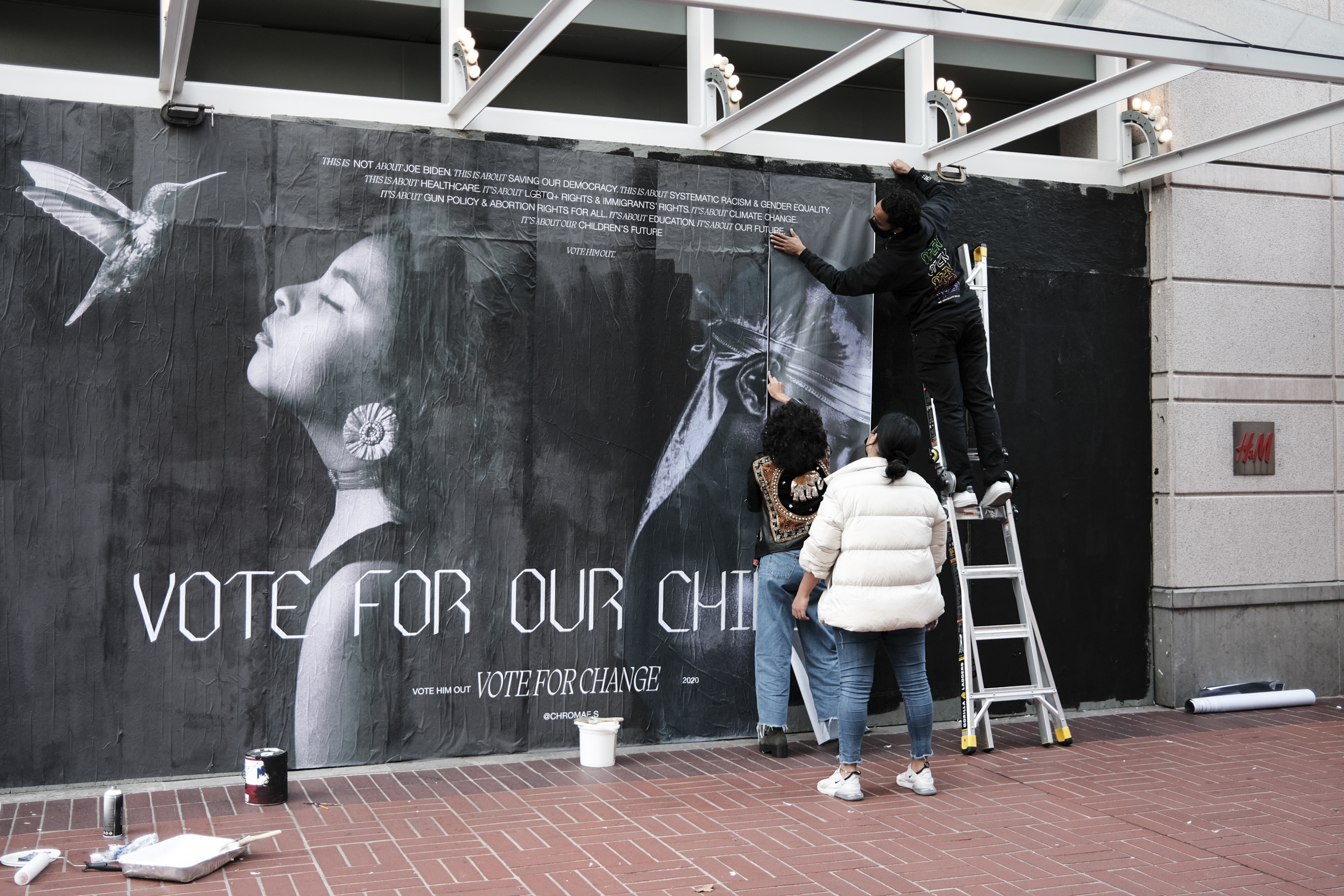 ⬤ Vote for Our Children
Wheat-pasted design made in protest to vote Trump out of office and give our children the future they deserve.
2020
---
⬤ Expression Against Oppression Murals
14 artists were funded to paint a mural in downtown Portland on the Pioneer Square walls, a mural that represented their expression as BIPOC artists living in the whitest city in America. Funds were recieved through growdfunding as well as donations from RACC and the City of Portland.
2020